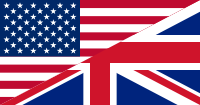 Park Railway Cottbus
NARROW GAUGE | With the Park Railway Cottbus to the Cottbus Zoo and the Branitz Park
The Park Railway Cottbus connects the parks being located on the edge of the town with each other. The park train from the district Sandow offers a connection to the Cottbus zoo and to the Branitzer park on a stretch of three kilometers.
Since June 1st, 1954, the Park Railway has driven on a track of 600mm almost daily from April until October. The steam engine is used at least twice in the month, otherwise several diesel locomotives and the diesel train called "intercity express train" run. The Park Railway has been operated by the municipal traffic service provider Cottbusverkehr since April 2011.
DISCOVER COTTBUS | a trip through the Cottbus parkland
When the Park Railway was set up to Cottbus in 1954, it only went from the Eliaspark to the zoo at merely one kilometer. The Cottbus Park Railway is grown, primarily by the Federal horticulture show (first in the new federal states), considerably to this day. And the Park Railway employees have big plans!

Sandow - Eliaspark - Parkcafé
The business plant of the Park Railway is due to the traffic junction in the Cottbus district Sandow: the tracks of the streetcar, the Deutsche Bahn and that one of the Cottbus Park Railway, touch themselves here. At first the way still runs parallel to the regular-lane railway route before the Park Railway turns left to the station "Stadion der Freundschaft" (football stadium of the FC Energie Cottbus) shortly before the Eliaspark.
Here one can insert an excursion to the water playground in the Eliaspark or to the Spreeauenpark at the former terminus of the Park Railway. Unfortunately, the station is only frequented little so that it is usually only occupied for operational purposes. The Park Railway goes in an S curve round the Cottbus exhibition halls. The Park Railway runs parallel to the Spreeauenpark and to the pedestrian way into the stop "Parkcafé" (nice restaurant and café).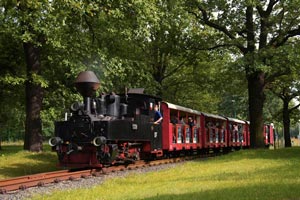 Park Railway Cottbus between Zoo and Parkcafé
Parkcafé - Zoo Cottbus & Branitz Park - Branitz
"Next station: Cottbus zoo": the possibility of going to the zoo or strolling in the Branitzer park offers itself at the station zoo. This one is the most frequented station of the Park Railway Cottbus.
It follows the longest track section of the Park Railway Cottbus: the one from the station zoo to the station park and castle Branitz. The way of the Park Railway leads along the street and past at the elephant house of the Cottbus zoo.
TIMETABLE | departures in March
closed
| | | | | | | | | | | |
| --- | --- | --- | --- | --- | --- | --- | --- | --- | --- | --- |
| station | time | | | | | | | | | |
| Sandower Dreieck (ab) | 10:00 | 10:50 | 11:40 | 12:40 | 13:30 | 14:20 | 15:10 | 16:00 | 16:50 | 17:40 |
| Stadion der Freundschaft | 10:05 | 10:55 | 11:45 | 12:45 | 13:35 | 14:25 | 15:15 | 16:05 | 16:55 | 17:45 |
| Parkcafé (need stop) | 10:07 | 10:57 | 11:47 | 12:47 | 13:37 | 14:27 | 15:17 | 16:07 | 16:57 | 17:47 |
| Zoo | 10:12 | 11:02 | 11:52 | 12:52 | 13:42 | 14:32 | 15:22 | 16:12 | 17:02 | 17:52 |
| Park und Schloss Branitz (an) | 10:19 | 11:09 | 11:59 | 12:59 | 13:49 | 14:39 | 15:29 | 16:19 | 17:09 | 17:59 |
| | | | | | | | | | | |
| --- | --- | --- | --- | --- | --- | --- | --- | --- | --- | --- |
| station | time | | | | | | | | | |
| Park und Schloss Branitz (ab) | 10:20 | 11:10 | 12:00 | 13:00 | 13:50 | 14:40 | 15:30 | 16:20 | 17:10 | 18:00 |
| Zoo | 10:29 | 11:19 | 12:09 | 13:09 | 13:59 | 14:49 | 15:39 | 16:29 | 17:19 | 18:09 |
| Parkcafé (need stop) | 10:32 | 11:22 | 12:12 | 13:12 | 14:02 | 14:52 | 15:42 | 16:32 | 17:22 | 18:12 |
| Stadion der Freundschaft | 10:35 | 11:25 | 12:15 | 13:15 | 14:05 | 14:55 | 15:45 | 16:35 | 17:25 | 18:15 |
| Sandower Dreieck (an) | 10:39 | 11:29 | 12:19 | 13:19 | 14:09 | 14:59 | 15:49 | 16:39 | 17:29 | 18:19 |